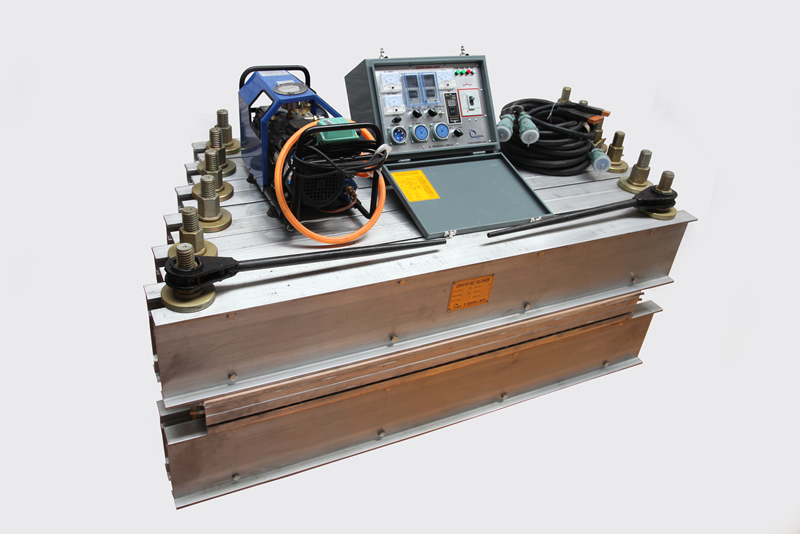 No.1 INTRODUCTION OF CONVEYOR BELT VULCANIZER

conveyor belt vulcanizer, also called conveyor belt vulcanizing press or belt vulcanizing press machine. It's vulcanize equipment and tools for repairing & splicing of conveyor belt. It suits for various conveyor belt, such as EP, Rubber, Nylon, Canvas and Steel cord belt, etc.
The belt vulcanizer is dependable, lightweight and portable machine, which is widely used in the field of metallurgy, mining, power plants, ports, building materials, cement, coal mine, chemical industry, etc. Heating plates are available for rhombic, rectangular and modular type (two or more sets of heating plates together).

NO.2 TECHNICAL PARAMETERS

1. Vulcanization pressure: 0~2.0 MPa;
2. Vulcanization temperature: 145°C;
3. Difference in surface temperature of vulcanized plate: ± 5°C;
4. Heating up time ( at normal temperature to 145°C )<30 minutes;
5. Voltage: 220V/ 380V/415V/440V/480V/550V/660V, 50/60HZ, 3PHASES;
6. Temperature adjustment range: 0 to 200°C;
7. Timer adjustment range: 0 to 99 minutes;
Model

Belt width (㎜)

Specification

Size of heating plate

(L×W×T)mm

Power

KW

Dimension

(L×W×H)mm

Weight

KG

DLCBV-650

650

650×830

830×820×31

10.8

1140×830×585

440

650×1000

1000×820×31

13

1140×1000×585

530

DLCBV-800

800

800×830

830×995×31

12.7

1320×830×585

515

800×1000

1000×995×31

15.4

1320×1000×585

630

DLCBV-1000

1000

1000×830

830×1228×31

15

1450×830×585

600

1000×1000

1000×1228×31

18

1450×1000×585

715

DLCBV-1200

1200

1200×830

830×1431×31

18.2

1700×830×750

800

1200×1000

1000×1431×31

22

1700×1000×750

912

DLCBV-1400

1400

1400×830

830×1653×31

20.6

1950×830×750

885

1400×1000

1000×1653×31

24.6

1950×1000×750

1050

DLCBV-1600

1600

1600×830

830×1867×31

22.8

2150×830×795

1130

1600×1000

1000×1867×31

27.2

2150×1000×795

1325

DLCBV-1800

1800

1800×830

830×2079×31

25

2380×830×900

1420

1800×1000

1000×2079×31

30

2380×1000×900

1630

DLCBV-2000

2000

2000×830

830×2303×31

27.4

2620×830×980

1560

2000×1000

1000×2303×31

33

2620×1000×980

1824

DLCBV-2200

2200

2200×830

830×2478×31

29.8

2830×830×980

1720

2200×1000

1000×2478×31

35.8

2830×1000×980

2030



NO.3 FEATURES
1. Heating Plate: lightweight, portable, pressure and temperature uniformity;
2. Water Plate: high pressure can reach Max. 2.0 MPa (20 bars or 290 psi);
3. Cross Beam: lightweight & high tensile aluminum alloy;
NO.4 QUICK TIPS
1 inch=25.4 mm;
1 MPa=10 bars=145 psi;
NO.5 DIY FOR CONVEYOR BELT VULCANIZER
1. WATER COOLING SYSTEM (less than 10 minutes to cool from 145°C to normal temperature) or NATURAL COOLING SYSTEM (more than 2 hours to cool from 145°C to normal temperature);
2. ELECTRIC PUMP or MANUAL PUMP; if choose ELECTRIC PUMP, please advise voltage, such as 380V 50HZ 3 Phases;
3. Standard Control Cabinet or PLC Touch Screen Control Cabinet;

NO.6 WHEN INQUIRY, PLEASE ADVISE THE FOLLOWING QUESTIONS:
1. Belt width, belt material (such as EP, NN or ST) and splicing length (joint length);
2. Voltage, such as 380V 50HZ 3 Phases;
3. Electric pump or manual pump;
4. standard (automatic) control cabinet or PLC touch screen control cabinet.

NO.7 Water Cooling Conveyor Belt Vulcanizer
Feature: Rapid integral cooling fitted on both plates, belt vulcanizer could be dismantled within 5~10 minutes.

NO.8 MODULAR CONVEYOR BELT VULCANIZER
Modular conveyor belt vulcanizer can be applied to Belt width 3200 mm maximum.
Special design and production service is offered as per requirements of clients.
CONFIGURATION OPTIONS